What's Shakin':
New CD/DVD & More Big News!

Shake & Michael Hearne live
I can't believe we're at the end of Summer already. I hope you had a great one! I'm happy to announce the release of our new DVD/CD with Michael Hearne, Mike Roberts and Doug Floyd and special guest Stephanie Sharp Hickman, and produced by John Moss. The DVD is a concert filmed live at the "Centrum" last Summer. It was directed by Bruce Bryant and Jim Barham of Ghost Ranch Films. It was edited by Bill Moore and the music was recorded by Cory Frederick, mixed and mastered by 3 time Grammy winner, Randy Miller. It is available at MyTexasMusic and CD Baby and from us on this website. Better yet, come on out to a show and pick one up in person.
Randy Miller will also be producing my next studio CD. We began work on it last year and put it on the back burner so we could concentrate on finishing the live DVD/CD project. Now that the DVD/CD is finally out, we intend to resume work on the next CD.

Michael Hearne, Monte Montgomery, Shake, Randy Miller
Another project I've been involved with is a CD to benefit HAAM, Health Alliance for Austin Musicians, also produced by Randy Miller. It is a CD of collaborations between a wide variety of Austin musicians. Monte Montgomery and Michael Hearne and myself collaborated on "Today's the Day", a song that Michael and I wrote and it features Monty's fabulous guitar work. The HAAM Benefit will be Tuesday, Sept. 24. The day will culminate with ALL ATX – The Concert at ACL Live featuring a once in a lifetime lineup of musicians from the live music capital of the world.
Tickets for the concert will benefit HAAM and it went on-sale Friday, August 2. The line-up includes: Ray Benson, Eric Johnson, Christopher Cross, Jimmie Vaughan, Suzanna Chofell, Monte Montgomery, Charlie and Will Sexton and many more. The concert will celebrate and support Austin music, and will be a unique chance for Austin to see all of their local favorites together on one stage. The night will also showcase unique collaborations from the ALL ATX CD. The CD, which will be released Sept. 16th and will feature up to 15 unique tracks with many artists playing on each other's recordings. KLRU-TV, Austin PBS will tape the concert and broadcast it later this fall. The broadcast will also be made available to other PBS stations.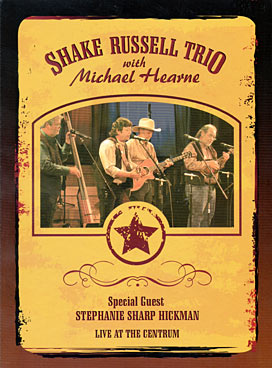 The New CD/DVD: Shake Russell Trio with Michael Hearne
live DVD/CD package. Order yours today!

Michael Hearne at last year's Big Barn Dance
Be sure and get tickets through Austin City Limits if you are in the Austin area. It will be a fantastic show, plus it is for a great cause. And remember to watch for the CD and pick up a copy.
It is September and that means it is time for the 11th Annual Michael Hearne's Big Barn Dance in Taos, New Mexico. This year it is September 5, 6, 7. For the first time it will be up at the Taos Ski Valley and tickets are going fast for accommodations and tickets to the BBD. This promises to be the best one yet! We say that every year and every year we are right! Go to Michael Hearne's website for information on tickets and accommodations. Besides all of the great music and merriment involved, Taos is a beautiful place to be in September.

Hope to see you in Taos and at another live show! I am celebrating 40+ plus years of music in Texas and you are the reason why I am still around.
Hope to see you up the road.
Peace,
Shake